COROMINO
2008 foal: Coroniro
From Heritage Manor Farm's website: "Big and handsome with large kind eyes and a gentle nature, Coromino is a truly beautiful horse, both inside and out. He has classic good looks with modern refinement, good bone, long legs and a beautiful neck. He is extremely easygoing, cooperative and well mannered, a true gentleman. Coromino is multi-talented for both Dressage and Jumping, and has three impressive and correct gaits suitable for both disciplines."


FERON
2007 foal: Tiberon
From Blue Moon Farm's website: "16.3H bay Trakehner by the Olympic gold medalist 'Peron'. Peron is known as the highest scoring Olympic stallion in dressage history. Feron's damsire is the German imported stallion Leibjager, who was also a competitve grand prix dressagfe stallion. This phenomenal stallion should throw his size, presence, and bone to his foals. He will start his dressage career in 2006 under trainer Justine Sanger. Feron is approved by the American Warmblood Registry."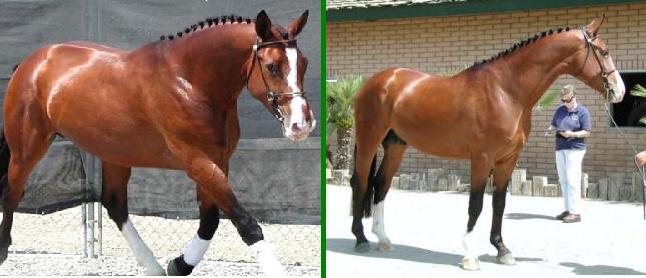 FEUERTANZER
2006 foal: Feuervogel
From Freedom Farm's website: "True to his heritage, Feuertanzer possesses all of the qualities desired in the modern sporthorse. His exceptional temperament, conformation, gaits, and jumping aptitude are well documented. In 1999, Feuertanzer was presented to the American Trakehner Association for stallion approval. He was overwhelming approved with unheard of scores which later earned him "Premium" status (one of only four stallions ever receiving this honor from the ATA). His marks of ALL 9's and 8's were the 2nd highest ever given by the ATA! ... He has already sired 4 ATA Horse Of The Year Award winners (two out of TB mares), and numerous USDF in-hand winners."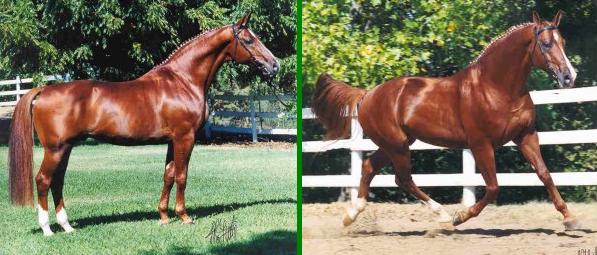 GATSBY
2008 foal: Gabilan
2009 foals: Game Point and Global News
From Foxdale Farms' website: "Gatsby not only turns heads with his beauty, conformation and presence, but he steals the hearts wherever he goes, whether in training, grooming, or just working around him in the barn ... Most riders want a horse who is not only talented, but fun and safe too. The story remains consistent - people love their Gatsby babies and are hailing them as the most beautiful, talented, trainable, and sweet horses they've ever had ... He consistently produces outstanding foals, with one Premium colt ranking top 5 in the nation. Gatsby stamps his foals with size, conformation, athleticism, and consistently amazing temperaments, making him an excellent choice for amateurs or professionals in any sport horse discipline."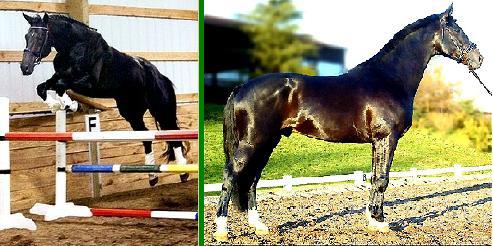 RICKY MARTIN
2006 foal: Resoluut
Morgan noticed Ricky Martin for his good looks, fantastic trot, and tight jump while competing on the Georgia Hunter Jumper Association circuit. This stallion has a wonderful attitude and tons of charisma: he attracted a crowd at every show! Additionally, he was Zone 4 Champion and 9th in the nation for 2 Year Old Hunter Breeding.


YEAGER GF
Currently in foal: Red Rosalyn
According to his website, Yeager is "athletic and playful, and loves to jump. True to his breeding, he is built well to do either dressage or jumping, and has a fantastic presence that gets noticed wherever he goes. His canter is especially lovely, naturally round, balanced and free through the shoulder. Yeager has a nicely set on neck and short back which makes dressage work easy for him, and he has a well engaged, elastic step at trot. Like his sire, Yeager has a huge bascule and spring over fences that has me really excited to show him in eventing and jumpers in the future."


last but not least ... MJ BOSTON JAMMER ... our tease stallion